Why Your Neighbor Is Not Your Best Choice!
Many of us in the Homewatch industry compare notes and experiences through our membership in the National Home Watch Association. There are a number of common events that we encounter. Here is a brief list of the top 10 reasons why a neighbor or family member is not a wise choice for watching your empty home.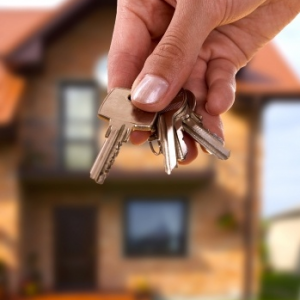 1. Neighbor Accountability: Some vacant homeowners depend upon friends or neighbors to check their empty homes. In reality, these people  do not check on your property as frequently or as thoroughly as you might expect. They are busy with their own lives and may not be in town themselves when bad weather arrives.  If and when they do show up, they are in and out of your home within minutes. Most qualified homewatch companies go through an extensive inspection and detailed checklist which takes a fair amount of time to complete.
2.  Background Checks: Have you ever done a background check on your neighbor? Do they or any of their family members who have access to your keys have criminal backgrounds? Do you really want these people having access to your unattended home? Are your keys locked up in a secure safe in their home to prevent unauthorized access? We've heard of instances where vacant homes have been used as meth labs by unauthorized parties with key access or the neighbor decides to use your home as "party central." This can have a detrimental effect to the long term value of your home plus the cost of mitigation clean up is significant if your home has been used for illegal drug manufacturing.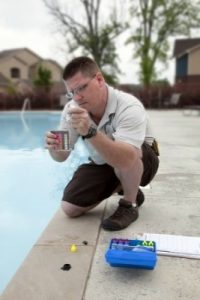 3. No Shows: How do you really know if your contracted landscaper, pool service contractor or pest control services are showing up as scheduled? Is the work performed up to required standards?  In fact, we find many pools that don't meet minimum health safety standards required for commercial pools let alone suitable to protect your guests and pool equipment from damage. Does your neighbor have the tools and training to check your pool/spa water quality and if so, will they and how do you know if this has been properly done? Do you want to risk the consequences of significant damage to expensive pool surfaces and equipment from improperly balanced water?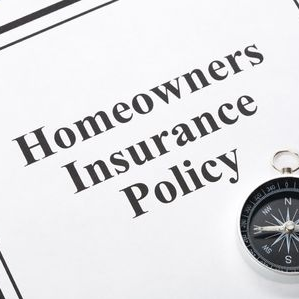 4. Insurance Requirements: Most insurance companies now require that you have someone checking on your unattended home to prevent unexpected losses and to mitigate damages. In the event of a loss, how do you prove to your insurance company that your neighbor was actually there doing this work on a regular basis? Do you have written reports and pictures with GPS certified confirmation that prove these periodic inspections were occurring? A certified Homewatch provider should be providing you with this documentation after each visit so you have this for proof to your insurance carrier and your own peace of mind. The reports should also provide GPS positioning to prove to your insurance carrier that your Homewatch provider was on site.
5. Bonding and Third Party Liability: Does your neighbor's liability insurance policy provide any coverage to you in the event that they forget to lock your home or accidentally turn your heat off in the middle of winter and all the pipes freeze? Probably not. What happens if they or someone else they allow into your home steals from you? Do you really want to jeopardize the relationships with your neighbors and friends looking after your home? Does your neighbor know what steps to take in the event that they discover evidence of forced entry into your home? Are they trained to properly clear a home? What happens if they encounter a burglar or squatter? Are they personally protected for this event? Do you really want them potentially exposed to this risk?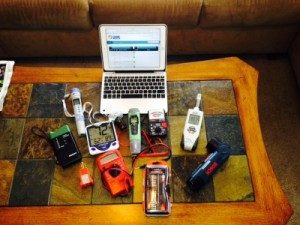 6. Tools and Training: Does your neighbor carry a hygrometer to measure the relative humidity in your home on each visit and report these results for insurance company purposes to prove that levels were below the standards necessary for mold and mildew growth? Does your neighbor know what levels create problems? A certified homewatch provider should be providing you with these results on each visit. What ongoing training and certification does your neighbor undergo to make sure that you are getting the most experienced professional watching your investment? Do they know the particular telltale signs to look for before damage becomes a disaster? Do they know what steps to implement especially during the winter or before storms so that your property is protected? In our experience, most don't and serious damage frequently occurs.
7.  Freeze Protection Checks: Is your neighbor checking the operation of your deicing or freeze protection cables and ground fault circuits during each visit in the wintertime? Do they carry a multimeter and have the training to identify problems? A qualified homewatch provider should be doing these basic checks on these critical protection systems.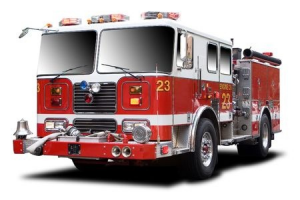 8.  Wildfire Risks: If you live in a wildland fire risk zone, is your neighbor trained to look for issues around your property that increase your risk of damage in the event of a wildfire? Will they make recommendations to you as to measures that should be implemented?
9. Round the Clock Service: Is your neighbor available 24/7 to handle emergency callouts for fire and burglar alarms? Do you really want the alarm monitoring services calling your neighbors in the middle of the night when and if something happens? Do you really expect them to drive to your home at 3 a.m. and open up the house for emergency personnel? Remember, your neighbors may also not be in town when these alarms sound off. What happens then?
10. Professional Reporting:  Does your neighbor provide you with consistent and detailed reports and pictures upon each visit? Do you have any GPS record that confirms they were even there on a regular basis? Again, a qualified Homewatch provider should be giving you comprehensive reports on each visit along with pictures of any issues noted.
There are many other reasons too numerous to list here, but this gives you a brief overview of the challenges with using an untrained and non-certified neighbor, family member or other provider for taking care of your unattended home. If you are looking for a professional service, make sure they have been properly certified and are members of a professional association such as the National Home Watch Association. Neighbors doing favors simply doesn't protect you and your home.
At Lake Chelan HomeWatch, our years of construction experience make us uniquely qualified to manage and maintain your vacation home. We provide professional documentation on each and every visit so you always know the status of your property. We are licensed, bonded and insured so you can be confident in being properly protected. We engage in ongoing training and keep up with the latest trends and issues in our industry so that you are receiving the best care possible. For a free consultation, contact us today at (509) 393-3652 or send us an email through our contact page.